Day Cruises to Similan Islands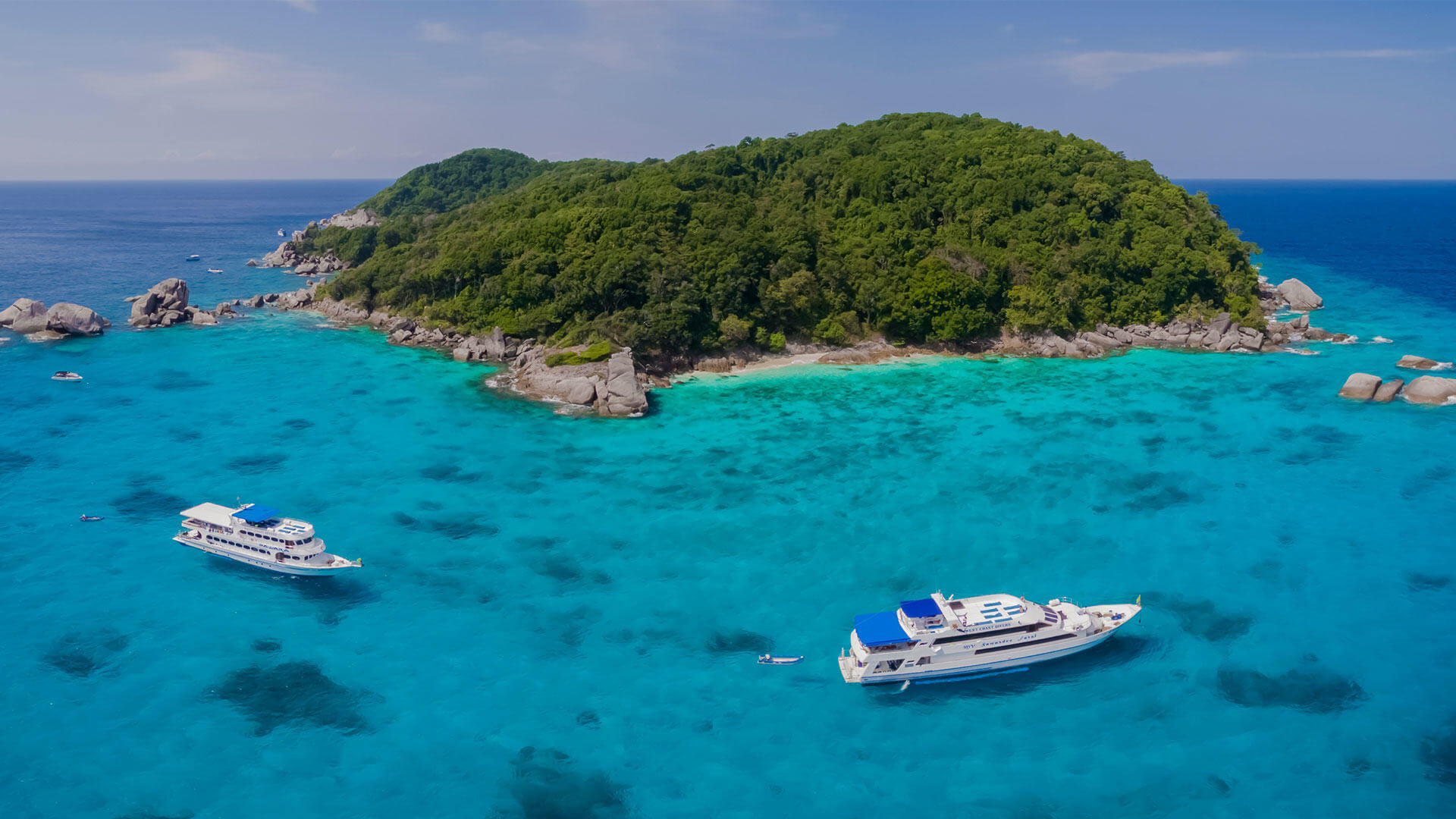 Similan, derived from the Malay 'sembilan' meaning nine was probably due to the beautiful nine little islands that form one of the world's most pristine archipelagoes. Known to be one of the top ten most interesting diving sites in the world, the Similan islands are situated a mere 84 kilometers northwest of Phuket's Patong Beach in the Andaman Sea and provides easy access to tourists. During the months from December to April when the monsoon is long gone and on to the month of March, once the monsoon is long gone, the water is clearest and the vegetation greenest and offers not only a beautiful diving site but a wonderfully picturesque scenery above the water and on the sandy white beaches.
Hundreds of tourists travel to the Similan Islands known to be one of the best diving sites in Thailand to explore the wonders below water. Swim between colorful cities of coral, shoals of exotic tropical fish, big rocks in the water and above, through eerie blue caves, swim-throughs, barrel sponges and huge sea fans not to mention the possible manta and whale shark that might come your way. There are also shallower areas ideal for snorkeling where you might meet nemo(clownfish) and much more.
There are a number of ways of getting to the Islands. While liveaboards are popular among tourists and allows you more time to spend in the water and do a bit of island hopping in search of more secluded and virgin diving sites, day cruises are ideal for those who wish to explore but still come back to the main land at night. Depending on your budget, time you want to spend in the water, number of divers you would like to accompany you, the safety and comforts of the boat, one can choose from a wide array of packages offered by various cruise organizers on the main land. For the more adventurous, hitch a ride with a local boat and mingle with the locals for a daring trip off the beaten path. While speed boats get you to location fast, catamarans is a more roomy experience and could be quite crowded due to its capacity.
Most cruises make a few trips at two or more locations depending on the package and boat trips vary between 45 minutes to 3 hours depending on the destination and boat used. There are departure points from Phuket, Phang Nga and Khura Buri and your Phuket Resort will be more than happy to hook you on a boat for a most adventurous and relaxing day trip at Similan Islands. Anantara Phuket Resort Thailand is a beautiful Phuket Beach Resort mixing in the modern luxuries with the serene beauty of the surrounding beaches.